This article
from CNN is amazingly funny, and not in a good way -
Recession's latest victim: U.S. innovation

Patent filings fell in 2009 for the first time in 13 years, worrying Silicon Valley that it is losing its place as the leader in global innovation.

NEW YORK (CNNMoney.com) -- U.S. innovation slowed this year for the first time in 13 years as the recession cut into budgets, and costs to protect inventions rose.

The number of patent filings in the United States fell 2.3% in 2009 to 485,500 from 496,886 last year, according to a preliminary estimate by the U.S. Patent and Trademark Office. That makes 2009 the first year since 1996 in which businesses and inventors filed fewer patents year over year.

"That's unfortunate because [patent filings] are a reflection of innovation," said David Kappos, director of the Patent Office. "Innovation creates so many jobs and so much opportunity for our country. It is absolutely key to our long-term success in the global economy."

Most blame the recession for the drop in U.S. filings. As a result, many companies are opting to hold off on bringing new ideas to market until the economy improves substantially
Read the whole article here.
Patently-O's reaction:
"I tend to attribute huge rise in patenting activity over the past two decades more to a perceived strengthening of the patent right and less to an actual increase in innovations. In recent years, court decisions and threatened action from congress may have reduced the perceived potential value of the patent right -- thus lowering demand. Perhaps now, applicants are filing fewer 'junk' patents."
I suppose when there is an astronomical increase in patent applications for the past decade-plus, any minuscule decrease is supposed to be from a lack of 'innovation', as though patent applications should be expected to automatically increase exponentially every year - just like housing prices.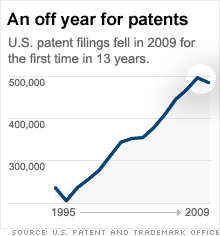 So-called 'performance reports' from the Patent office going back roughly 15 years can be found here.